Multi purpose
This mix contains the latest genetics available to Irish farmers on the RL and Teagasc PPI.  Excellent combination of early spring growth, 1st cut silage yield and persistency.  This is a very versatile mixture without compromising on quality or yield at peak growth periods.

Excellent combination of intermediate and late heading varieties.
Two new varieties.
Excellent ground cover score in tetraploids.
Exceptionally high yielding mixture.
Kerry is a new late diploid bred by Teagasc and highest yielding late diploid on the PPI.
Intensive Grazer
A specialist grazing mixture with the latest genetics on the Irish RL with superior spring, summer and autumn growth over other leading brands.  For maximum benefit a grazing height of 8cm should be maintained.  If growth outstrips demand surplus grass should be ensiled.
Highest yielding grazing mixture derived from the Teagasc PPI index.
Nifty has the highest seasonal yield figure on the new Teagasc PPI.
Kerry is a new late diploid bred by Teagasc and highest yielding late diploid on the PPI.
Aspect has one of the highest tetraploid ground cover scores on the 2016 recommended list.
Late Heading Grazer
Another intensive grazing mixture with all late heading varieties with higher tetraploid content possible as inclusion of Glen royal gives excellent ground cover.  Tight heading date spread of 6 days. Solas is bred by Teagasc and offers very high seasonal yields on the PPI.

All late heading varieties 5th-10th June.
Glen royal excellent ground cover score and bred by Teagasc.
Xenon New variety to 2016 RL with excellent spring, summer and autumn production & highest ground cover score of all tetraploids.
Solus- Teagasc bred variety has excellent seasonal yield on the new PPI higher than Abergain.
Heavy Soils
This mixture is specifically formulated to be a permanent pasture for heavy land where the retention of pure perennial ryegrass is challenging.  The inclusion of meadow fescue and creeping fescue will ensure the base of the sward remains closed preventing invasive species from taking hold.  The Forage Max heavy land mixture is specifically designed for the more challenging soils on your farm and will certainly stand the test of time.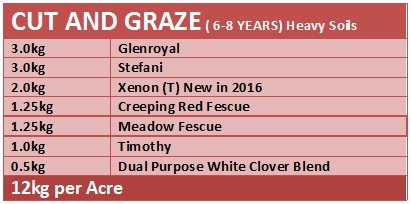 High inclusion of diploid perennial ryegrass
One tetraploid has the highest ground cover score on the recommended list.
Inclusion of fescues keep sward closed preventing weeds invading the sward.
Long term permanent pasture mix suitable for grazing and silage.